We are a passionate organization dedicated to ensuring a quality education.
Established in 2004, the St. Mary's School Foundation is charged with building an endowment and raising funds to support St. Mary's Catholic School for generations of children to come.
The Foundation is a 501(c)(3) organization under the Internal Revenue Service's Group Ruling that organizations listed in the Official Catholic Directory are tax exempt and donations given to them are tax deductible (Group Exemption Number 0928). The St. Mary's School Foundation's Employer Identification Number is 20-2060383.
In 2012, the Foundation reached an important threshold of surpassing over $200,000 in its endowments. As of December 31, 2021, we have grown the endowments to over $2.1 million. This enabled it to make the first of many donations to St. Mary's Catholic School.

Since then, we have been able to gift over $482,000 to the school.
Today, the Foundation is evolving. We've made a commitment to the school, and we're prepared to take the next step on our journey toward our goal. Until now, we've been focused on completing the long, arduous process of establishing an endowment. It's time to intensify our fundraising efforts to nurture that endowment. We hope you'll help us grow our endowment and make a positive impact on Cheyenne's future.
Who We Are
The Board of Directors consists of the three Pastors of the Cheyenne Catholic parishes, and two to eight members nominated and elected by the Board, serving two year terms not to exceed six terms of twelve years. The Foundation also has a Development Director to assist its work. If you're interested in joining the Board, please contact us.
Reverend Thomas E. Cronkleton, Jr.
PRESIDENT,
EX-OFFICIO DIRECTOR
Father Tom Cronkleton is an ex-officio board member by virtue of being pastor of the Cathedral of St. Mary, and is President of the Foundation. Fr. Cronkleton has been an ordained priest for nearly 35 years. Along with Bishop David Ricken, Father Gary Ruzicka, Ann Redman and Mike Reese, he helped establish the St. Mary's School Foundation.
In addition to being pastor of the Cathedral, Fr. Cronkleton is currently the Judicial Vicar of the Diocese of Cheyenne. He was pastor of Holy Trinity (Cheyenne), pastor of St. Paul (Pine Bluffs), student at the Catholic University of America (Washington, DC), where he attained a licentiate and doctorate in canon law, parochial vicar at the Cathedral of St. Mary, and parochial vicar at St. Anthony (Casper).
Fr. Cronkleton was blessed with a Catholic grade school formation in various schools in Iowa and Laramie; he is a firm believer in the benefits of Catholic schools.
Father Emilio Cabrera
EX-OFFICIO DIRECTOR
Father Emilio Cabrera was born in a peaceful small town in Colombia. His childhood was spent between school and the parish, acting as sacristan, altar boy, and bell ringer. He was also a catechist for his own companions who were preparing with him for their First Communion.
The parish church was not very far from home, but he had to cross a highway to ring the bells to call people to Mass. His father found a solution that helped Emilio avoid the highway: he lowered the bell from the church towers and installed it in the balcony of his house. But then Emilio was embarrassed to ring the bells because people laughed, so he looked for a way to crawl to the balcony and lie on the ground to ring the bells.
He was ordained priest in 2000 and began his service in the Diocese of Cheyenne in January 2021, at Holy Spirit Parish, Rock Springs. He is currently the parochial administrator of the Church of St. Joseph of Cheyenne. In Columbia, Father Cabrera served at Santa Helena, Santa Maria del Jordán, Nuestra Señor del Carmen, San Benito, and San Jose de la Aragua.
Father Cabrera fondly remembers those moments that helped him decide to become a priest, and he knows that one of the most beautiful things that could have happened to him was being a catechist, altar boy, bell ringer, and sacristan, and to have a father who was able to move a huge bell for him.
Father Carl Gallinger
EX-OFFICIO DIRECTOR
Rev. Carl Gallinger is a member of the board of directors. He is pastor of Church of the Holy Trinity and Vicar General for the Diocese of Cheyenne.
In addition, Rev. Gallinger is currently Vicar General of the Diocese of Cheyenne. He was previously pastor of St. Joseph (Cheyenne), pastor of St. Paul's Newman Center (Laramie), Vocations Director, parochial vicar at the Cathedral of St. Mary, and parochial vicar at St. Anthony (Casper).
Rev. Gallinger brings to his Foundation work over 32 years of experience being a priest for the Diocese of Cheyenne, sharing in the responsibility of sound financial practices for parishes, the diocese and other non-profit organizations.
David Johnson
VICE PRESIDENT,
ELECTED DIRECTOR
David was born in Cheyenne and eventually moved to Rock Springs where he attended public school. When he moved back to Cheyenne in 1961, he married Patricia Menghini. David and Pat have one son, a daughter-in-law and two grandchildren.
David has been a member of St. Mary's Cathedral for 54 years. During this time his ministry includes being co-chair for the construction of Hartmann Hall and Priest's residence; President of Parish Council in the 1970s and Council Member in 2000; St. Mary's Parish Trustee; Co-Lay-Chairman for the construction of the new St. Mary's Catholic School; Lay-Chairman for the Restoration of St. Mary's Cathedral to its Gothic integrity; Member of Parish Finance Council; Member of Diocesan Olivet Cemetery Committee; Chairman of Columbarium development; and Superintendent of the Diocese of Cheyenne Schools.
David has also served the State of Wyoming. He was a teacher and administrator in public schools for 33 years; employee and administrator at Wyoming State Archives and Historical Department and the State Health Department. David has also worked for the Union Pacific Railroad, as a truck driver, an oil field worker and as a Paratrooper with the 82nd Airborne Division.
Connie Janney
TREASURER,
ELECTED DIRECTOR
Connie, an alumna of St. Mary's Catholic School and the University of Wyoming, is married to Rod Janney, a retired employee of the State of Wyoming and LCCC. Both of their children, Paul and Jennifer, are graduates of St. Mary's Catholic School.
Connie worked for Seton Catholic High School from 1980 to 1983. In 1983, she took the position of Finance Officer for the Cathedral of St. Mary and held that position until 2007. She was hired in 2015 by Michl McGee as the accountant and, as of November 2019, assumed the position of Finance Officer at the Cathedral of St. Mary.
Keith Zabka
SECRETARY,
ELECTED DIRECTOR
Keith currently serves as the Foundation Secretary. He hopes bringing his 31 years of business experience will add knowledge and donation contacts to the Foundation. He has also held other volunteer positions for Warren FCU Board, Cheyenne Mustangs Board and is currently on the Governors Wyoming Workforce Development Council. He is a big supporter of our local Laramie County Community College.
Keith's daughter Brooke attended St. Mary's School and he attended Catholic grade school at Bishop Hogan in Missouri. He believes we need to dedicate our efforts to the increase of teachers' salaries and the future financial security of the school.
Cathy Stoughton
ELECTED DIRECTOR
Cathy and her family moved to Cheyenne in 1980 and are members of Holy Trinity Parish. Her son attended St Mary's School and currently lives in Colorado with his wife and three children. Cathy taught computer courses at LCCC until 2011. Since retiring she has  served on the Holy Trinity Parish Council, is an active in HTCCW and PEO chapter, and is also on the board of St. Vincent DePaul.
Cathy was raised in a family that strongly believed in Catholic education, and her dad was on the founding board of her hometown's first Catholic high school. She attended Catholic schools all her life, graduating from Marquette University.
Jenny Craig
ELECTED DIRECTOR
Jenny and her husband have one daughter who is a graduate of St. Mary's Catholic School. Jenny and her family know firsthand the gift of spiritual and educational development the St. Mary's Catholic School offers.
Jenny has been a member of the Board since 2015. She has also served on the St. Mary's Catholic School PTO as well as the St. Mary's School Advisory Board.
She is a civic minded member of the Cheyenne community, having served on the Board of Directors of the Friday Food Bags Foundation, Mia Maria Lodge of the Order Sons of Italy in America, Cheyenne Family YMCA and the Ewing T. Kerr American Inn of Court.
Jenny is honored to help ensure that future generations of children can experience the benefit of a strong Catholic education.
Debra Hoblit–Hirsig
ELECTED DIRECTOR
Debbie has had the honor of teaching at St. Mary's Catholic School. She taught K–6 in a behavior modification classroom, using Fr. Flanagan's model for teaching social skills. Debbie also taught in a regular public school classroom and worked with underprivileged single-parent children and families as well.
Debbie is married and has two daughters, 19 and 23. She is passionately Catholic and has seen the benefits of raising two daughters in our beautiful and rich faith. She is honored and excited to be a part of an organization striving to ensure continued teaching of our gospel values and academic excellence.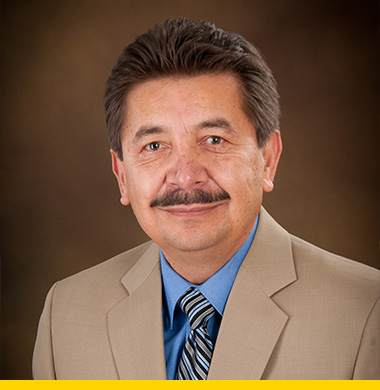 Marvin "Marv" Espinoza
ELECTED DIRECTOR
Marvin Espinoza was born and raised in Cheyenne.  He attend St. Mary's School and graduated in 1970
He has been a lifelong parishioner of the Cathedral of St. Mary.  Marv was a high school business teacher for 31 years, an insurance agent for 31 year, and currently owns Espinoza Realty and Espinoza Taxes.
Marv and his wife Kristi were married at the Cathedral of St. Mary and have been married for 49 years.  They have 4 children and 13 grandchildren.
Marv values and supports Catholic education.
Ken Dugas
ELECTED DIRECTOR
Ken attended St. Mary's Catholic School from the first grade through his senior year in high school, graduating in 1977. He's a member of the Church of St. Mary and has previously served on its Parish Council. Ken and his wife Susan have both volunteered as CCD teachers.
Ken graduated from the University of Wyoming with a degree in accounting in 1981. He and Susan started dating in high school at St. Mary's and have shared their lives with each other ever since. They have two sons, Bryan and Cody.
Ken is a partner at the Cheyenne CPA firm MHP LLP. He has served on the boards of United Way of Laramie County, Cheyenne LEADS, the Kiwanis Club of Cheyenne, the Knights of Columbus, the Wyoming Society of CPAs, the Early Education Partnership and the Cheyenne Depot Museum Foundation.
Ken brings his accounting and tax experience to the Foundation, adding to the financial oversight for the board and the foundation's investors.
Beth Thompson
DEVELOPMENT DIRECTOR
Beth and her husband Troy Thompson live in Cheyenne. Troy is an alumnus of St. Mary's Catholic School, owns his veterinary clinic and is a Laramie County Commissioner. Beth and Troy have 6 children whom have all attended St. Mary's Catholic School.  
Beth is the Marketing Director at St. Mary's Catholic School. She has been at the school for 8 years and is in charge of the school's four major fundraisers: the Golf Tournament, Foundation Breakfast, Holiday Wine Fest and the Fanfare for Education event.
James Casey
ELECTED DIRECTOR
Jim's father served in the United States Air Force, therefore most of Jim's youth was spent traveling with his family throughout the United States and overseas. In 1973, the military brought his family to FE Warren Air Force Base in Cheyenne, where his father retired after serving for 20 years. Jim was raised in a Catholic family, attended Mass with his family throughout his youth and has been an active member of St. Mary's parish for many years.
Jim graduated from Cheyenne Central High school and attended the University of Wyoming, beginning his automotive career after college. He settled in Cheyenne with his wife, Heidi Casey, sons Connor and Taylor, and daughter Jayme. After working for Halladay Auto group for 20 years, Jim purchased Halladay Motors and is the current President and Owner. He is actively involved in the community and stands on the board of directors for the COMEA Shelter, Chamber of Commerce, and the St. Mary's Pastoral Council. Jim believes in running a business that is recognized as a community partner and has ensured Halladay Auto Group is also active in the community, supporting numerous charities such as the Boys and Girls Club of Cheyenne, Youth Alternatives, CLIMB Wyoming, Meals on Wheels and the St. Mary's School.
Caitlin Harper
ELECTED DIRECTOR
Caitlin was raised in the seaside community of Cape May, New Jersey where she attended Our Lady Star of the Sea Catholic School. At 18, she packed two suitcases and moved westward, trading the beach for the mountains to attend the University of Wyoming, and she has never looked back!
Caitlin and her husband live in Cheyenne where they enjoy being an active part of the community and engaging in multiple organizations, including the Cheyenne Little Theatre and the Laramie County Library Foundation. With a daughter in college and a son on the way, Caitlin is proud to serve St. Mary's Catholic School and the children in this community who deserve the absolute best that education has to offer.
St. Mary's Catholic School
Established as an educational ministry in 1884, the school exists to strengthen and pass on the values and teachings of the Catholic faith. As a separate but supportive organization, the St. Mary's School Foundation is gradually assuming all fundraising duties to fund the school's long-term operations and tuition assistance program.
Cheyenne Parishes
The Diocese of Cheyenne encompasses 36 parishes in the entire state of Wyoming. The city of Cheyenne is home to three parishes, as well as the Catholic chapel at FE Warren AFB.